Brandi Broke is a main character of the Sims 2 Youtube series Pleasant View. She is a resident of the fictional town Pleasant View, she is a devoted mother of 2 (1 on the way). She had a husband Skip, but he died in a pool accident. She is now in a commited relationship with her phsycyatrist Peter White.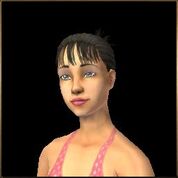 Brandi lives with her sons Dustin and Beau and her boyfriend/phsycyatrist Peter White.
Biography
Edit
Brandi grew up with her parents, by her teenage years she in a serious relationship with her high school sweetheart Skip Broke. They got married and had two kids, Dustin and Beau. Skip then died in a pool accident, Brandi had a phsycyatrist, Peter White. In "Episode 4" she was caught in bed with Peter and they started a real relationship together when she found out she was pregnant. Its still unknown wether the baby is Skips' or Peter's but Peter does'nt seem to care either way. She is returning as a main character for season 2 and she still has'nt had her baby yet.
Skip Broke - Husband (Desceased)
Dustin Broke - Son
Beau Broke - Son
Unborn Baby Broke - TBA
Relationships
Edit
Ad blocker interference detected!
Wikia is a free-to-use site that makes money from advertising. We have a modified experience for viewers using ad blockers

Wikia is not accessible if you've made further modifications. Remove the custom ad blocker rule(s) and the page will load as expected.