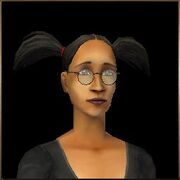 Cassandra Goth
is a main character of the Sims 2 Youtube series
Pleasant View
. She is a resident of the fictional town Pleasant View. She has a dad, Mortimer. A mom, Bella and a brother, Alexander. She was engadged to Don Lothario until he cheated on her and she now is going out with Darren Dreamer.
She lives with her dad, Mortimer. Her mom, Bella and her brother, Alexander. She will be returning as a main character for season 2.
Biography
Edit
Cassandra, along with her brother, had quite a traumatic past. She was engaged to Don Lothario. She was unaware that Don had a date with her mother and she was abducted by aliens. In "Episode 1" she found Don in bed with Dina Caliente. She broke up with him there and then. Whilst she was still with Don/recovering from the break up she was unaware that Darren Dreamer was in love with her. It was'nt until "Episode 6" when they finally got together because he admitted he loved her. They are now happily together. In "Episode 9" Bella returns and gets re-married to Mortimer.
In "Episode 2 (Season 2)", Cassandra gets mad with Bella when she believes Bella is making up the alien story. Bella gets offended that she would call her a liar and slaps her. Cassandra is devestated.
Bella Goth - Mom
Mortimer Goth - Dad
Alexander Goth - Brother
Relationships
Edit
Darren Dreamer - Boyfriend
Ad blocker interference detected!
Wikia is a free-to-use site that makes money from advertising. We have a modified experience for viewers using ad blockers

Wikia is not accessible if you've made further modifications. Remove the custom ad blocker rule(s) and the page will load as expected.